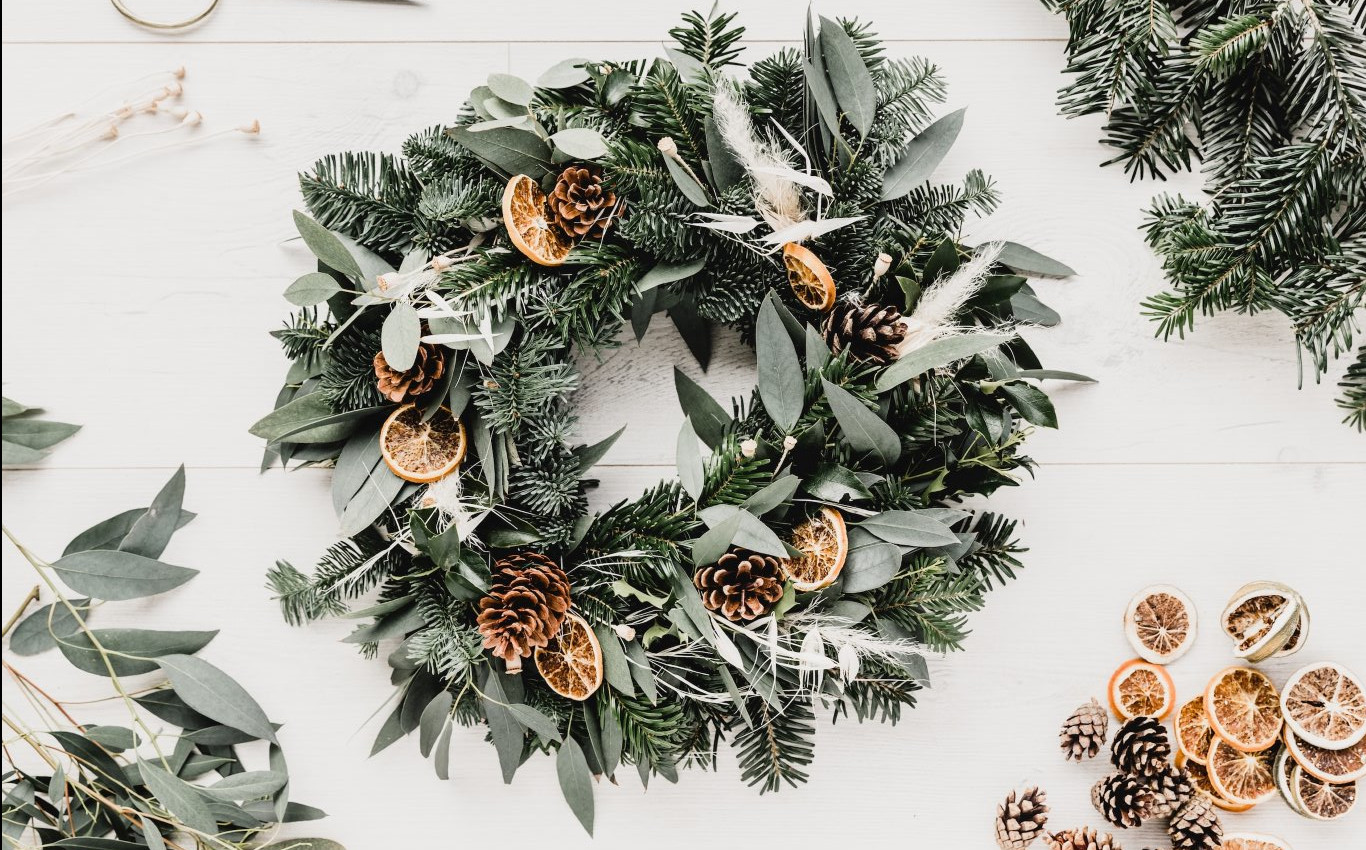 Shop by Category
We Recommend
New In
Fan Favorites
On Sale
Best Sellers
Front Door Wreaths

TheDoorWreaths is your one-stop shop for beautiful and unique door wreaths for every occasion. Our extensive collection includes a variety of wreaths to suit all styles and preferences, from classic to contemporary, seasonal to timeless.
We specialize in creating wreaths that add a touch of charm and elegance to your front door, living room, or any other space you choose to display them. Whether you're looking for a wreath to celebrate a specific holiday or to enhance the décor of your home year-round, we've got you covered.
Our collection includes a wide variety of wreaths, including Holiday, Christmas, Seasonal, Floral, Patriotic, Nautical, and other wreaths. We use high-quality materials, ensuring our wreaths are durable, long-lasting, and always beautiful.
Our Holiday Wreaths are perfect for celebrating any holiday, including Easter, Thanksgiving, Halloween, and Valentine's Day. Our Christmas Wreaths are perfect for the holiday season, with a variety of styles and colors to choose from.
Our Seasonal Wreaths are ideal for adding a touch of charm to your home throughout the year, with wreaths to suit all seasons, including spring, summer, fall, and winter. Our Floral Wreaths are perfect for adding a touch of nature and beauty to your home, while our Patriotic and Nautical Wreaths are great for celebrating your love of country or the sea.
Tips From Our Blog
Elevate Your Home Decor with Enchanting Door Wreaths
Our vast assortment includes a wide range of wreaths to suit every occasion and provide a festive touch to your living areas. We have the perfect wreath for every season and celebration, from Christmas wreaths that capture the wonder of the holiday season to Easter wreaths that represent renewal and rebirth.
Every Occasion and Season Has Its Own Wreath
At TheDoorWreaths.com, we take pride in presenting a wide variety of door wreaths to suit your own style and tastes. Explore our diverse offering, which includes:
Christmas: Our beautiful variety of Christmas wreaths will help you embrace the enchantment of the holiday season. These wreaths will transform your home into a Christmas wonderland, with designs ranging from traditional red and green to contemporary and quirky.
Easter: Our exquisite variety of wreaths will help you celebrate the joy and renewal of Easter. These wreaths will add a bit of whimsy and beauty to your door, with delicate pastel colors to vivid spring blossoms.
Fall: With our variety of fall wreaths, you can embrace the warmth and hues of autumn. These wreaths will permeate your home with the spirit of the season, thanks to their rich foliage, harvest-inspired decorations, and warm components.
Halloween: Our enchanting Halloween wreaths will add a frightening touch to your decor. These wreaths are ideal for creating a festive environment at the spookiest time of year, with designs ranging from playful to eerily gorgeous.
Seasonal: We provide seasonal wreaths for a variety of occasions, including Christmas, Easter, Halloween, and Thanksgiving. Discover a diverse collection of patterns that capture the essence of each season, allowing you to create a festive ambiance all year.
Patriotic: Display your patriotism with these patriotic wreaths. These patriotic wreaths are ideal for Independence Day or any other event that calls for a display of national pride.
Seasonal: Our seasonal wreaths are created to celebrate the changing seasons and provide a new element to your home decor. These wreaths, which range from brilliant spring blooms to snowy winter arrangements, provide a varied approach to appreciating the beauty of each season.
Spring: Our wonderful variety of spring wreaths will help you welcome the arrival of spring. These wreaths, bursting with blossoms, brilliant hues, and symbols of regeneration, will infuse your home with the joy of the season.
Summer: With our variety of summer wreaths, you can embrace the carefree spirit of summer. These wreaths, with their vibrant and tropical components, will provide a splash of color to your front door.
Thanksgiving: Our collection of Thanksgiving wreaths will help you celebrate the season of thanks. These wreaths, adorned with autumnal hues, leaves, and harvest-themed accessories, will create a warm and inviting ambiance for your Thanksgiving celebrations.
Welcome: Our welcome wreaths will make a wonderful first impression. These wreaths include inviting designs and pleasant greetings that set the tone for a welcoming environment.
Winter: With our winter wreath collection, you can embrace the tranquil beauty of winter. These wreaths evoke the enchantment of the season with frosted branches and glittering decorations.
Quality Materials for Longevity
We feel these door wreaths will bring happiness for many years to come. To ensure the lifespan of our wreaths, we exclusively utilize the highest quality materials. Each branch, flower, and ornament is carefully selected for its durability and resistance to the environment. Our door wreaths are made to last season after season, so you may enjoy them for years to come and build cherished memories and traditions with your loved ones.
Versatility and ease of installation
With our door wreaths, you can simplify the process of adding a festive touch to your home. We recognize how valuable your time is, especially during the busy Christmas season. That's why our wreaths have handy hanging loops or hooks to make installation a snap. Our adaptable wreaths are meant to offer joy and beauty to any location, whether you choose to display them on your front door, over your fireplace, or as a magnificent centerpiece on your holiday table. Transform your house into a welcoming refuge that expresses the mood of each occasion with ease.
Door Wreaths Have a Long History: Timeless Symbols of Welcome and Celebration
Door wreaths have a rich history rooted in symbolism and cultural significance that extends back millennia. Wreaths were made from evergreen greenery and worn as crowns during ceremonial occasions in ancient Greece and Rome. Early wreaths represented triumph, glory, and the cycle of life.
As time passed, the use of wreaths grew beyond personal ornamentation and made its way to front doors. Wreaths were displayed on doors in ancient Rome as a symbol of triumph and joy, especially during festive occasions and religious festivals. This practice gradually extended throughout Europe and other parts of the world, becoming embedded in a variety of cultures and traditions.
Door wreaths took on new connotations during the Middle Ages. Wreaths became associated with Advent in Christian cultures, symbolizing the arrival of Christ and the anticipation of Christmas. Advent wreaths, which were often made of evergreen branches and ornamented with candles, served as a visual reminder of the next festive season.
Door wreaths have developed in style, materials, and design throughout history, reflecting the creative trends and preferences of each age. Wreaths have become a timeless sign of welcome, celebration, and the changing seasons, ranging from simple arrangements of fresh flowers and herbs to complex displays including ribbons, ornaments, and natural components.
Door wreaths have a distinct role in modern home design, reflecting the mood of numerous occasions and serving as a warm invitation to those who enter. Christmas wreaths with holly, berries, and gleaming decorations exude magic and festive cheer. Spring wreaths, with their delicate blossoms and pastel colors, herald the arrival of a new season and the beauty of renewal. Rich hues and harvest-inspired features in fall wreaths create a comfortable atmosphere of thankfulness and plenty.
Door wreaths have crossed cultural barriers and are now cherished by people all around the world. They represent unity, hospitality, and the enjoyment of life's special moments. These timeless decorations, whether adorning the doorways of homes, offices, or event venues, serve as a visual representation of welcome, creativity, and the distinctive character of each individual and occasion.
We commemorate the history and tradition of door wreaths at TheDoorWreaths.com by offering a handpicked assortment that highlights the diversity of styles, materials, and themes. Each door wreath bears a piece of this illustrious history, asking you to embrace the past while enjoying the present. Allow our door wreaths to become a part of your story, bringing a touch of elegance and charm to your home as you carry on this long-standing tradition of warmth, celebration, and welcome.
Join the TheDoorWreaths.com Community today!
When you purchase one of our door wreaths, you join a thriving community that celebrates the joy and beauty of each season. Connect with other decorators, share your decorating ideas, and be inspired by others' ingenuity. Join us on our active social media platforms and become a part of the TheDoorWreaths.com community, where we embrace the enchantment of every event and the art of creating inviting environments that capture the genuine soul of each season. Let us celebrate the delight of the seasons and make memorable memories together.