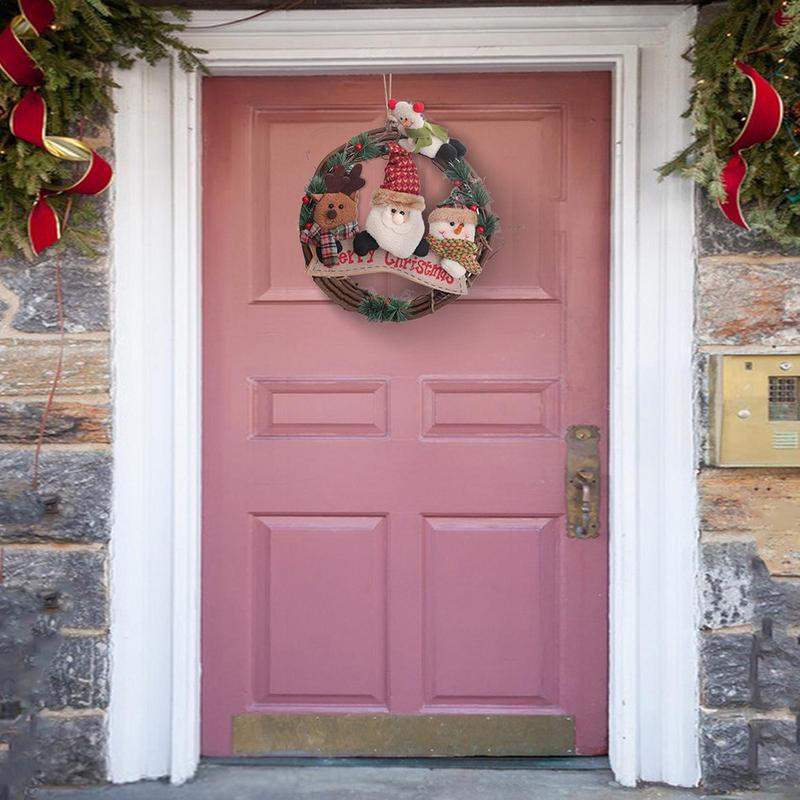 A door wreath is a lovely and welcoming addition to any home's entrance. This beginner's guide will help you navigate the world of door wreaths, whether you're a first-time wreath shopper or trying to freshen your existing decor. We'll give you crucial ideas and insights to choose and hang the perfect wreath that expresses your personal style and enhances the curb appeal of your home, from selecting the right type and materials to assuring proper placement and care.
1- Recognizing Wreath Styles: Classic to Contemporary
Door wreaths are available in a variety of styles, from classic and conventional to modern and contemporary. When selecting a wreath style, keep in mind the overall concept and beauty of your home. Classic options such as rich greenery or floral wreaths have timeless charm, yet contemporary arrangements with vibrant colors, distinctive textures, or unorthodox materials can make a big statement. Explore several types and let your unique taste lead you to find a wreath that compliments the architecture of your home while also highlighting your originality.
2- Choosing the Correct Size and Materials
Size matters when it comes to door wreaths. To guarantee a balanced and visually appealing display, consider the measurements of your front door and the surrounding space. Measure the available space and select a wreath that fits without overwhelming the door or obscuring any features. Take note of the materials utilized in the wreath as well. Choose long-lasting and weather-resistant materials, especially if your door will be exposed to intense sunshine or severe elements. Artificial foliage, dried flowers, grapevines, and even preserved natural elements like pinecones or feathers are common materials.
3- Appropriate Hanging Techniques and Positioning
Once you've decided on the perfect wreath, it's critical to hang it appropriately to create a safe and appealing display. Use a robust wreath hanger or an over-the-door hook that can handle the wreath's weight without damaging the door. Consider the height you want the wreath to be, which is usually eye-level or just over the middle of the door. If you have a glass door, be sure the wreath does not hinder visibility. Consider the season or event when determining where to display the wreath. A wreath centered on the door is a traditional option, but you may also experiment with off-center or asymmetrical placements for a more modern effect.
4- Colors and Themes: Reflecting Your Individuality
Consider the colors and themes that complement your own style and the overall mood you want to create when choosing a door wreath. Wreaths allow you to exhibit your creativity while also matching the design of your home. Choose wreaths in bright and strong colors, such as sunny yellows or flaming oranges, for a lively and joyful appeal. Consider wreaths with a monochrome palette or mild pastel tones if you desire a more elegant and classy look. In addition, consider wreaths with seasonal or holiday themes to commemorate significant occasions and add a festive touch to your entryway.
5- Maintenance and Longevity: How to Keep Your Wreath Looking Beautiful
Proper upkeep is required to keep your door wreath looking fresh and beautiful for as long as possible. Remember that wreaths exposed to bright sunshine, wind, or rain may require more frequent maintenance. Inspect your wreath on a regular basis for signs of deterioration, such as loose foliage or fading colors, and make any required repairs or replacements. Avoid placing wreaths in regions with high humidity or strong temperature variations, as these factors might shorten their lifespan. To keep artificial wreaths looking fresh, just spray them with water or use a silk flower cleaner to eliminate dust and keep the leaves looking rich.
6- Seasonal Transitions: Changing Your Wreath All Year
One of the benefits of having a door wreath is the ability to change it up according to the seasons or special occasions. Celebrate the changing seasons and holidays by altering your wreath. Consider wreaths with blossoming flowers or delicate greenery for a new and energetic look in the spring. For a coastal-inspired design this summer, choose wreaths embellished with seashells or nautical themes. Wreaths with warm autumnal colors, foliage, and harvest-inspired designs are popular throughout the fall. As winter comes, consider wreaths adorned with evergreen branches, pinecones, and decorations to add a festive touch to your entryway.
You now have the information and inspiration to create a magnificent and inviting entryway that reflects your style and welcomes guests with warmth and charm, thanks to our beginner's guide to choosing and hanging the perfect door wreath. Colors, themes, maintenance, and seasonal shifts should all be considered to ensure that your wreath remains attractive and relevant throughout the year. Allow your creativity to grow as you explore the many wreath possibilities available, and enjoy the process of finding the right wreath to bring a touch of elegance and personality to the exterior of your home.