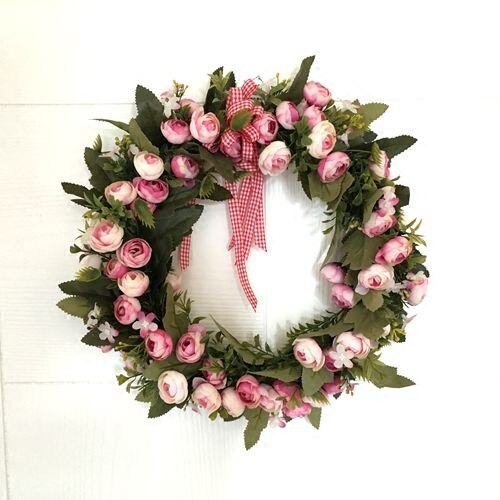 Welcome to our comprehensive guide on door wreath styles for every season! A beautifully crafted door wreath adds warmth, charm, and a welcoming touch to any home. In this blog post, we'll take a closer look at door wreath styles that perfectly capture the essence of four popular holidays: Christmas, Easter, Halloween, and Thanksgiving. Get ready to be inspired and discover the perfect wreath designs to adorn your entryway throughout the year.
Christmas Door Wreath Styles: During the festive Christmas season, door wreaths take on a magical and joyous character. Opt for wreaths adorned with vibrant red berries, lush greenery, glittering ornaments, and twinkling lights. Embrace traditional elements like holly, pinecones, and ribbons for a classic and timeless look. If you prefer a modern touch, consider a minimalist wreath with sleek metallic accents or even a whimsical wreath featuring Santa's sleigh or reindeer.
Easter Door Wreath Styles: As spring arrives, it's time to welcome Easter with delightful door wreaths. Choose wreaths bursting with pastel-colored flowers, delicate eggs, and adorable bunnies. Incorporate fresh blooms like tulips, daffodils, or lilies for a vibrant and fragrant display. Embrace the spirit of renewal and rebirth with wreaths featuring nest-inspired elements or miniature birdhouses.
Halloween Door Wreath Styles: Get ready to spookify your door with Halloween-inspired wreaths! Opt for wreaths adorned with creepy crawlies like spiders, bats, and skeletons. Play with a dark color palette, incorporating black, orange, and purple accents. You can also go for a more playful approach with whimsical wreaths featuring friendly ghosts, pumpkins, and candy corn.
Thanksgiving Door Wreath Styles: Thanksgiving wreaths celebrate the bountiful harvest and the spirit of gratitude. Incorporate natural elements like fall leaves, acorns, and dried corn husks into your wreath design. Embrace warm autumnal colors like deep oranges, rich browns, and golden yellows. Add a touch of elegance with faux fruits, berries, or a centerpiece of wheat and sunflowers.
Welcome Wreaths: Welcome wreaths are the perfect way to greet guests and create a warm and inviting atmosphere right at your front door. These wreaths are designed to showcase a friendly message or symbol that sets the tone for hospitality. Consider a classic "Welcome" sign or explore creative options like "Hello," "Home Sweet Home," or personalized monogram wreaths. Welcome wreaths often feature a mix of vibrant flowers, lush greenery, and decorative accents such as bows or ribbons. Choose colors that complement your home's exterior and create a cheerful and inviting ambiance for everyone who steps foot on your doorstep.
Patriotic Wreaths: Patriotic wreaths allow you to proudly display your love for your country and honor special occasions like Independence Day, Memorial Day, or Veterans Day. These wreaths often incorporate the colors of the flag, such as red, white, and blue. Look for wreaths featuring patriotic symbols like stars, stripes, eagles, or flags. Consider using burlap, ribbons, or fabric in patriotic patterns to add a touch of Americana. Whether you prefer a more traditional design or a modern twist, patriotic wreaths symbolize unity, gratitude, and the spirit of patriotism.
Seasonal and Holiday Wreaths: In addition to the specific seasonal wreaths mentioned earlier, there are countless options for wreaths that celebrate various holidays and seasons throughout the year. From Valentine's Day to St. Patrick's Day, from summer sunflowers to fall harvest wreaths, and from Easter to Thanksgiving, there are endless possibilities to explore. These wreaths embrace the unique characteristics and symbols of each holiday or season, incorporating corresponding colors, flowers, foliage, and decorative elements. Whether it's a wreath featuring hearts for Valentine's Day or a wreath adorned with autumn leaves for Thanksgiving, seasonal and holiday wreaths allow you to celebrate and decorate in style.
No matter the occasion or style, wreaths provide a versatile and beautiful way to enhance your home's exterior and express your personal taste and sentiments. Whether you choose a welcome wreath, patriotic wreath, or explore the array of seasonal and holiday options, let your wreath be a reflection of your warm hospitality, pride, and joy for the special moments in life. With creativity and a touch of inspiration, you can find or create the perfect wreath to adorn your door and captivate the hearts of all who visit.
No matter the season or occasion, door wreaths have the power to captivate and welcome guests with their unique styles. From the enchantment of Christmas to the renewal of Easter, the spookiness of Halloween, and the gratitude of Thanksgiving, let your door wreath reflect the spirit of the occasion. Get creative, experiment with different materials and themes, and bring your door to life with a stunning wreath that captures the essence of each season. Enjoy the process, and may your door wreaths become a cherished part of your home's decor throughout the year!
Remember to check back on our blog for more inspiring ideas, helpful tips, and expert insights into the world of door wreath styles. Happy decorating!