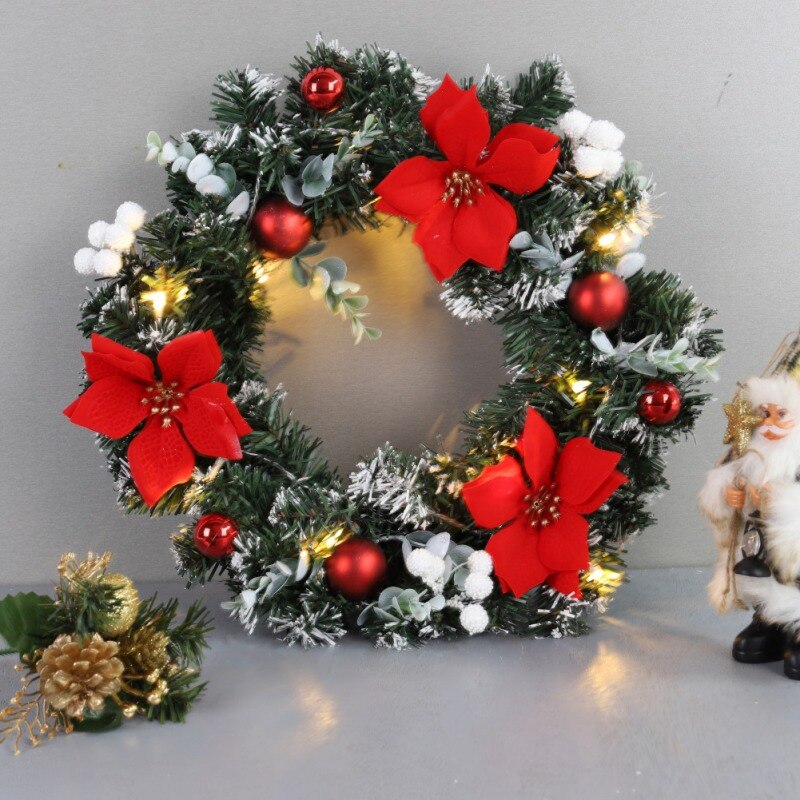 As the holiday season approaches, I had the pleasure of experiencing the magic of the Festive Glow Christmas Wreath, and it truly exceeded my expectations. This wreath is a stunning and elegant addition to any home decor, capturing the essence of the festive season with its captivating design.
The craftsmanship of this wreath is impeccable. Expertly crafted using a combination of artificial pine cones, berries, and flowers, it creates a lush and vibrant display that instantly brings warmth and joy to any room. The attention to detail is evident, with each element thoughtfully placed to create a harmonious and visually appealing arrangement.
One of the highlights of this wreath is its versatility. Whether adorning your front door to welcome guests, serving as a centerpiece on your dining table, or becoming the focal point of your holiday mantle display, this wreath effortlessly adds a touch of elegance and sophistication. Its timeless design complements various decor styles, allowing it to seamlessly integrate into your existing holiday collection.
Durability is a key aspect of this Festive Glow Christmas Wreath. Built to withstand the test of time, it promises to remain a beautiful and vibrant addition to your holiday decor season after season. The high-quality materials used in its construction ensure longevity without compromising on its visual appeal. This wreath is an investment that will continue to bring joy and festive cheer year after year.
Overall, the Festive Glow Christmas Wreath is a must-have for those seeking to embrace the holiday spirit. Its expert craftsmanship, vibrant design, and durability make it a standout choice among other wreaths on the market. Whether you choose to display it on your front door, centerpiece, or mantle, it is sure to impress and evoke a sense of joy and warmth. Celebrate the holiday season with this exquisite wreath and create a festive ambiance that will enchant both you and your guests.